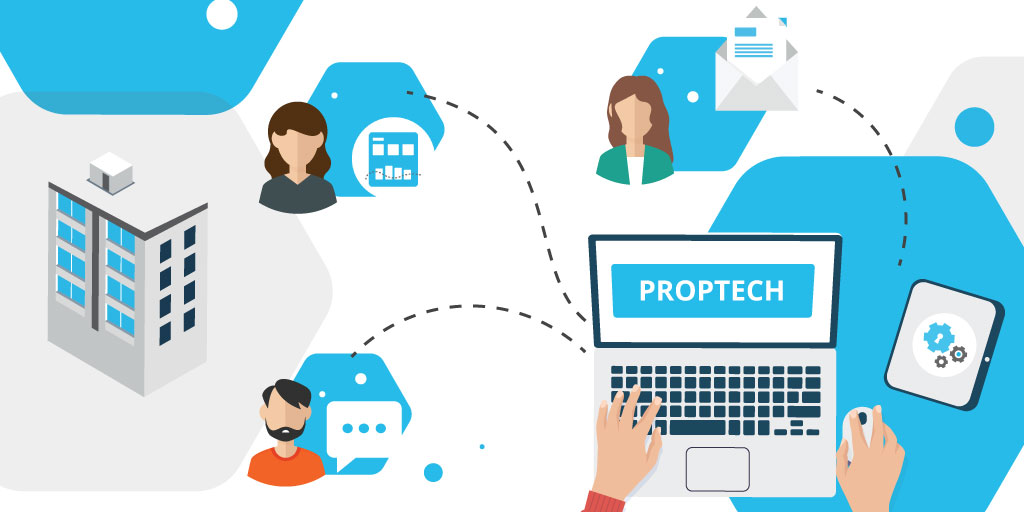 08 May

From our members: 3 WAYS HOW PROPERTY TECHNOLOGY IMPROVES REMOTE TEAMWORK

Before the year began, it was predicted that teamwork and collaboration would take the central stage when it comes to Proptech. Here we are, three months into the year and since we can't unsubscribe 2020, we need to subscribe to remote working to keep this vision alive. And Proptech is up for this challenge!

Let's be honest: zero face-to-face interactions with your coworkers (and the outside world) is hard. But we all have to figure out how far digitalization and technology can help and take an honest look at how well we are prepared.
Everyone is facing new challenges, so how can we rise to the opportunity?
It's a biological fact: humans are social beings. As Game of Thrones drilled into our heads, "The lone wolf dies, but the pack survives." We function at our best when we're together. So in these times, when we commute from our beds to the kitchen table, Proptech already has the advantage. Working in a digital team and utilizing PropTech has already improved so much; tenant management, asset management, big data issues and a new generation of tech-driven buildings.
Successful and efficient teamwork is something every organization wants to support and move towards, even without any digital tools. But, this is 2020 and it is necessary to have a process and support for remote work. For some companies, giving flexibility to their employees' work from home was a natural path. Other companies have had to pause their everyday work to struggle to follow the WHO's remote working advice and to keep their business running. The Real Estate industry is certainly no exception to that.
Before this virus made toilet paper fly off the shelves, life was already digitalizing the complex ecosystem of the world. PropTech was born from the natural need of simplifying and easing those complex and manual everyday operations of property investors, asset managers, landlords – basically anyone who worked with real estate in any way. Many of these operations were already based in teamwork, hence why PropTech always aimed to improve and bring people together.
So, let's take a look at Proptech and how it will help keep your team connected.
1.PropTech brings everyone on board
Let's start with a simple question, if you can choose a cloud-based solution, why wouldn't you?
We have the amazing possibility to use mobile and web solutions in our daily work and lives. You can stream a workout on Youtube, order e-books without a library, and even watch movies with your online friends. So why is the real estate industry staying as stiff and unyielding as a toddler in a car seat?
With a cloud-based solution, you are able to work and access information anywhere, anytime. Even last year we had already looked at 7 reasons for finally moving your business to the cloud and why it helps businesses to scale better.
Now, those solutions are more important than ever. Schools and daycares are closed and families are facing new kinds of challenges, as they try to combine private life and work. But know what – giving colleagues the ability to work remotely and with flexible working hours will get your team through the difficult months ahead.
Scalability plays a significant role as well. You need to have a solution that works for a team of 10 in the same way than it does to a team of 100. And in the future, being able to offer this flexibility will be a huge draw for applicants.
There are CRM systems, accounting softwares, electronic signature services – all can be used remotely and all bring transparency for your team. So take a break from Netflix binging and google which solution would fit your needs best. Or better yet, check out Unissu's list of PropTech companies; it includes an introduction to each and which problem they will help you to solve.
2. PropTech makes communication transparent
Think about that old trust exercise where someone closes their eyes and falls backwards, expecting to be caught. Without transparency, your team will end up flat on the dirty ground. Trust is crucial when it comes to team communication. And to create trust, you need to be transparent even when we can't physically be with our colleagues. And no, this doesn't mean you have to turn on your camera to show off your oversized t-shirt.
It is extremely important to have a solution that everyone in the team can access and understand the status of the activities. Shared information available anywhere leads to better discussions, less uncertainty, and focus on finding the solution or solving the issue.
Writing down information, notes or agreements into a system the whole team is working with guarantees that everyone is on the same page. Not only that, it provides a history of the conversation that no one can argue with. These systems help remotely working co-workers to be on track and the illusion that you aren't so far away from each other. And it decreases email-chains, so you can stop telling everyone not to hit "reply-all".
Think about this: if you work with listing or transaction platforms, you can connect to investors, no matter where they are located. Agents can list properties – from everywhere. Potential tenants can even view the properties online!
Using modern Proptech solutions, you will know what your colleagues are working on, see the status of a project and get a better understanding of the big picture.
3. PropTech will increase your customer satisfaction
The aim of Proptech companies is not just to improve and modernize the processes of searching, buying and finding apartments. It is also about using innovative solutions to increase customer satisfaction.
Almost any business has a product or service, some sort of team and customers. And keeping those customers happy keeps the lights on. PropTech is very aware of this and can provide your team with the right tools to make customers happy.
Remember that thing I said about history? That applies to customers too – the next person who asks for your manager, you have a complete and total history to pass on. Your teamwork will seem flawless with a PropTech solution that can produce that memorable user experience. And your online reviews will be a bit more uplifting too.
In the field of invest and finance, there are even modern tools for data management, supporting your remote team. A well-executed UX design paired with clear usability lets you exchange ideas with co-workers or customers as fast as your internet speed. It also keeps you from getting lost in the jungle of numbers, like the property data and spreadsheets. If you aren't lost in the forest, you may be able to notice and find the right tree.
The choice is yours: adapt to the modern world or become lost in history. The world won't always have a virus to make people work remotely, but technology is spreading companies across cities, countries, and continents. Don't let your team fall apart like your teenage long-distance romance. PropTech helps the real estate business to keep up our good teamwork even when times are difficult.
First published on: https://assetti.pro/3-ways-how-proptech-improves-remote-teamwork/