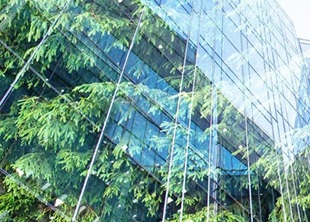 07 Jun

PropTech and Sustainability

Finland has been a leader in property technology and construction technology. Using software to make businesses run more smoothly and profitably is one thing. But PropTech and ConTech have another role to play that reaches beyond the future of the real estate and construction sectors. PropTech can be a force for the greater good by adopting technologies and policies for a sustainable future.
At a Glance: PropTech and Sustainability
Over the past two years, the coronavirus pandemic dominated news headlines, temporarily taking the focus off climate change. At the same time, the pandemic made it clear that each country and all industries are interconnected. Major, global events like climate change will eventually affect each and every person, no matter where they live. That means the detrimental effects of carbon emissions and their contribution to climate change will never be limited to one country or even one continent.
As a major contributor to carbon emissions worldwide, the real estate industry has a huge responsibility to reduce emissions. Combined with that responsibility comes an opportunity to improve the industry and push for more sustainable solutions. In that context, technology can be an excellent facilitator.
At this moment, construction and real estate are responsible for up to 40% of greenhouse gas emissions worldwide. The industry also uses up 40% of the world's energy and consumes 40% of all raw materials. Staggering figures like these make it clear how much work the industry has to do, but they also illustrate the size of the opportunity through PropTech.
Leading property consultant Roger Bryant reckons there are two options for the world to drastically reduce carbon emissions. Bryant told property market MIPIM that the world could grind to a halt more than it did throughout the pandemic. Alternatively, real estate developers could join other leaders in finding ways to build better.
How Construction and Real Estate Can Move Toward Sustainability
Across the European Union, political leaders are looking to raise the bar for action on climate change. For example, the EU Parliament is discussing whether to raise the target for reducing greenhouse gas emissions by 2030 from 40% to 55%.
Despite those commendable intentions, scientists have confirmed that the world can no longer avoid an increase in global temperatures by 1.5 degrees by 2030. However, there is still a chance to prevent a catastrophic increase in global temperatures if the global community reduces carbon emissions across the board.
The real estate industry has a huge role to play in avoiding a global warming catastrophe. Here are some of the biggest changes the industry can make:
Commit to using sustainable building materials
Reducing waste products
Focusing on energy-efficient construction and building management
Throughout the Nordics and worldwide, investors are recognizing the importance of minimizing carbon emissions. Being able to demonstrate the sustainability of a project and back up any claims with evidence is becoming more important than ever.
Building with Sustainable Materials
Anyone who has ever attempted upgrading an older property knows that it is often harder to adapt and improve an existing building compared to building new. The same is true when it comes to reduced-carbon or even carbon-neutral construction.
When it comes to planning for new development, sustainability can literally be built into the entire design, starting from the initial brief to the architect. Building "green", or sustainable, does not need to cost more than conventional construction. A recent study by Granlund found that the belief that sustainability is more expensive is no more than a myth.
The authors of the study recognized the importance of considering the life-cycle impact of a building from the start of the construction. Many of the decisions contractors and investors make during the construction phase will impact the house and its environment for decades. Choosing sustainable materials is one way of achieving this goal.
In practice, this means construction companies need to look at alternatives for traditional materials like steel, glass, or concrete. Concrete may be one of the world's most widely used and cost-effective building materials, but low-carbon versions already exist.
Reducing Waste in Construction
Our world has a huge problem with waste, and the real estate and construction industries are no exception to that rule. Overordering of materials is common in the industry to avoid delays caused by a site running out of materials.
Some project managers order up to 30% more than they need, simply to have a buffer in case the on-site team needs additional materials. Consider the waste this practice creates across an entire world of construction projects.
Simple solutions to the industry's waste problem include negotiating a return deal with suppliers or planning to sell any unused materials. When it comes to concrete, some contractors are already opting for volumetric mixers over Readymix trucks. Volumetric mixers carry the raw materials of concrete – cement, aggregate, and water – in separate bins on the truck. Concrete is mixed and poured on-demand, thus minimizing wastage.
PropTech has the potential to change the procurement and materials management process for the better. Traditionally, there has often been a delay in communications between procurement teams in the company's head office and the on-site team. That means requirements for materials may be communicated later than planned.
By using PropTech software, it is easy to connect the two parts of the operation to provide accurate data on either end. As the on-site team uses up existing supplies to a pre-set level, the software can trigger an alert to the procurement team to place an order. As a result, there are fewer delays and less waste.
Energy-Efficient Construction and Building Management
Constructing carbon-neutral buildings does not stop when construction is finished, and the building is handed over to its tenants. Choosing low-carbon or carbon-neutral building materials as well as minimizing waste during the construction process is important, but it is equally critical to consider emissions during the lifespan of the building.
Smart building management technology can go a long way toward minimizing emissions and limiting energy costs. Choosing sustainable heating and lighting systems is one option. Developers can also equip their buildings with PropTech tools that automatically turn off appliances when they are no longer in use or switch them to a low-energy setting.
Finland and the Nordics may not commonly be associated with an overflow of sunshine. But especially during the summer months, it pays to install solar panels. The panels can generate enough energy for the tenants of the building. Plus, if there is an overflow, building owners could consider storing energy or selling it to the local supplier. By doing that, developers minimize their emissions whilst helping to stabilize the local grid.
As awareness of climate change and the importance of sustainability are growing, the demand for sustainable housing increases. Being able to satisfy tenants and owners looking to reduce their carbon footprint, automatically increases demand for a building. Investing in sustainability can therefore secure the rental income from a property for years, if not decades.
When it comes to the growing demand for sustainable premises, there is no difference between commercial and private properties. Just like individual tenants are becoming more aware of the choice they have, so are companies looking to increase their "green" credentials.
Transparency Makes a Difference
As awareness of environmental issues and sustainability has grown, some players in the real estate field and other industries have tried to take advantage. It is not uncommon to find claims of sustainability that are not backed up by fact.
When that happens, companies lose consumer trust. One way of raising credibility and improving levels of trust between building owners and tenants is to equip homes with technology that measures emissions. Fitting a new build with the right technology to measure energy usage and determine carbon emissions makes it easy for developers to back up their sustainability claims.
PropTech companies in Finland can already provide the technology needed to achieve that. They can even take things one step further. Based on actual measurements of a home or an office's carbon footprint, technology can provide suggestions to reduce energy usage, for example.
What About Older Buildings?
Reducing carbon footprints is easier for new buildings than it is for older pieces of architecture. However, that does not mean that owners and tenants should not consider their environmental impact and how it can be reduced.
Retrofitting to Minimize Carbon Emissions
Retrofitting can make a massive difference to the energy efficiency and the carbon footprint of any building, even if it is a few centuries old. Upgrading windows and doors with well-insulated versions is one option. Improved insulation preserves heat, lowering tenants' energy bills and improving the environmental friendliness of the building itself.
Most older buildings require upgrades to their electrical fittings at some point. Whilst that generally involves major work, it also presents an opportunity to upgrade the entire system to accommodate more energy-efficient options and accommodate smart technology.
Developing smart technologies for retrofitted buildings as well as new-builds offers countless opportunities for PropTech developers.
Creating New Revenue Streams
Minimizing the carbon footprint of a piece of real estate does not necessarily mean spending money. In fact, with a little creativity developers can introduce new revenue streams. For many environmentally conscious tenants, it is only natural to choose an electric car. Having access to a charging station right outside of their apartment or house makes perfect sense. Developers will recover their investment quickly through revenue generated from recharging. Smart technology facilitates contactless payments by tenants and other users.
Giving Back
Offsetting carbon emissions is another great option to become more sustainable as a property developer. It is ideal for owners of older buildings that offer limited possibilities for retrofitting, such as historical buildings. Not everyone can quickly replace traditional windows with double glazing and PVC frames.
Giving back by supporting suitable charities and other carbon-neutral initiatives can help offset the carbon footprint of a less energy-efficient building. PropTech can enable an accurate assessment of the building's carbon footprint and automatically donate a suitable amount.
Creating genuine connections between builders and zero-carbon initiatives has another advantage. It serves to strengthen the developer's reputation as a company that cares about more than its bottom line but instead looks at its overall impact on the world around it.
Sustainability Makes Business Sense
Improved sustainability is good for business. More investors have started asking about the environmental credentials of a project under consideration. Whilst business interests have not taken a step back, environmental considerations have stepped up to the forefront. Sustainability is no longer an afterthought.
EU politicians are creating legislation to reinforce a more sustainable approach to building. Since the beginning of 2022, the EU Taxonomy Delegated Act has determined common rules to assess whether investment projects like real estate developments are sustainable.
Industry experts believe that, before long, nearly one-third of all funding will be dedicated to projects that promote sustainability. For construction companies, that means changing the way they approach almost all of their projects. From considering profitability and return on investment alone, they now need to take sustainability into account.
Real estate industry experts believe that the world as a whole has no choice but to undergo a dramatic transition to prevent climate change from becoming catastrophic. This transition will dramatically impact the real estate and construction industries in a very short time. Forward-looking investors have already incorporated sustainability into their future planning. They select projects no longer solely based on potential short-term profits but long-term sustainability. ProTech startups and established companies have a central role to play in this transition. Their technology will enable most, if not all the changes the industry needs to make to become sustainable.