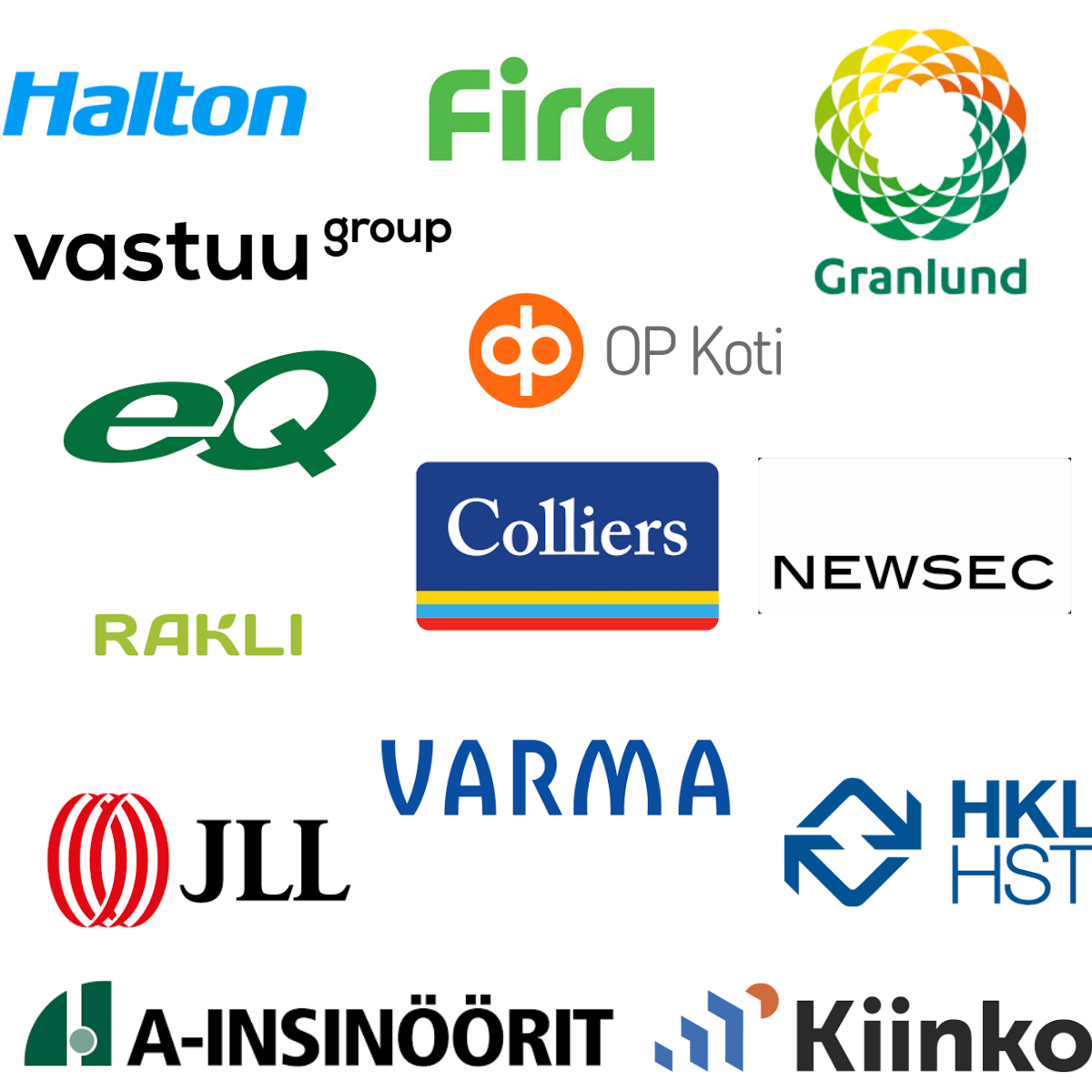 27 Sep

Meet PropTech Finland Forerunners

Do you have what it takes to become a PropTech Finland Forerunner? Find out by meeting our 14 forerunners and learning more about them.
What is a PropTech Forerunner?
Our forerunners are leading companies from across the field of built environment who are driving industry progress. For us as an organization, our forerunners are the people that our startup members turn to when they need help and advice.
These 14 companies are also part of our advisory board where they help us steer our activities in a way that benefits our members and the industry as a whole. Because our members and the entire organization benefits so much from their support, we are keen to give something back.
In practice, that means our forerunners are the first to access new materials and events. Here is an example: when we are looking for judges for different awards and competitions, we first approach our forerunners. That means they have a chance to meet some of the most promising Nordic PropTech startups before anyone else does. Plus, being part of a panel of judges raises the forerunner's profile. Intrigued? If you would like to join us in building the Nordic PropTech industry, talk to us about becoming a forerunner! Your organization could be building the future of the built environment.
Meet our forerunners:
AINS Group
AINS Group delivers cutting-edge construction and engineering projects. Whether it is property development, urban development, infill construction, or land use planning, the AINS team can easily deliver expertise. Carbon-neutral urban development is a special focus area for this pioneering company. The team supports its clients with a combination of construction engineering and consulting knowledge and skills.
Colliers
When it comes to finding perfect spaces for leading businesses, Colliers is one of the first names to come to mind. The company is the market leader for shopping center management in Finland but also provides office spaces and supports companies looking for industrial premises. Their innovative approach, based on high-quality service, not only helps Colliers' clients thrive. This type of know-how is invaluable for PropTech startups!
eQ
eQ Group brings together companies that concentrate on asset management and corporate finance. The team offers a wide range of investment classes, including private and mutual equity funds, discretionary asset management, international mutual funds, and investment insurance policies. eQ also supports real estate transactions. Its parent company, eQ Plc, is listed on NASDAQ Helsinki.
Investing responsibly is a core part of the eQ philosophy. The company promotes long-term investment commitments and puts a strong emphasis on combining investment with environmental, social, and governance considerations.
Fira
Fira is breaking the mould by offering construction as a service. Their expertise is available to residential construction companies and developers as well as group builders and commercial construction projects. One of the main factors making Fira's approach unique is their ability to provide a reliable price estimate quickly. This is the start of a smooth and transparent construction process which the company prides itself on. The benefits are obvious: smoother project flow leads to greater cost-effectiveness.
Granlund Group
Granlund Group is determined to create a smart and a sustainable future for our built environment. That mission lies at the heart of everything the companies does across its 27 locations throughout Finland. From property management services to energy and environmental consulting, the team is committed to building a better future. Whilst they are keen to make buildings more functional, they also understand just how important human well-being is in connection to the built environments we live in.
Halton
Demanding indoor air solutions are Halton's focus area. This family-owned business works with a variety of different industry sectors, including healthcare, food service, marine, and offshore support. They also deliver clean indoor air in public places. Sustainability has been a cornerstone of the business for years, pushing the company to publish regular sustainability reports alongside other corporate reporting. The reports detail how Halton is progressing toward its goal of becoming carbon neutral. They make for inspiring reading for anyone in the PropTech sector.
HKL
Few modern cities work well without a well-thought-out network of sustainable transport options for citizens, including cars, trams, buses, and ferries. HKL is responsible for keeping Helsinki moving, which is not a small task by any standards. The organization's services cover millions of journeys every single day. In fact, their statistics say that the total comes to 152 million public transport journeys per year. To support a growing demand for sustainable options, HKL operates a fleet of nearly 3,500 city bikes.
JLL
JLL Suomi is home to some of Finland's most experienced real estate advisers and professionals. They specialize in finding premises for companies that simply demand more than an office space. The JLL team understands how a space can support and transform a company's culture, helping businesses achieve their goals by facilitating new ways of working.
Their expertise includes reimagining old spaces as something new as well as creating entirely new workspaces. Technology is a key driver behind everything JLL does, including implementation tools, strategies, and processes developed to increase both value and performance of real estate assets.
Kiinko
For more than 40 years, Kiinko has helped develop some of the greatest talents in the Finnish real estate industry. The company specializes in providing vocational further education in the real estate field. Since the beginning, Kiinko has had the backing of some of the industry's biggest players as the business was founding by our country's leading real estate associations. These associations still own Kiinko today.
Part of their program includes nationwide live training sessions across most big cities. As we are in the age of online learning, Kiinko also offers webinars, remote training, and group or one-on-one meetings – all designed to further knowledge of construction and real estate.
Newsec
Newsec is taking property asset management and advisory services to a new level through unparalleled insights from across the Nordic countries. With 2,400 people based in seven Baltic and Nordic countries, it is easy to see how this company is a leader in its field. Newsec prides itself in developing specialist PropTech insights through digitalization and innovation. If you need to know more about real estate, these are the people to ask.
This company likely needs no introduction. Voted Finland's most trusted real estate agency for several years in a row, most readers will be familiar with OP Koti. Their goal is to make the transition from one home to another as smooth as possible, and digital technology has become one of the main drivers in realizing this goal.
Apart from technology, OP Koti relies on years of building up local knowledge of their area, combined with expertise and a wide range of services related to real estate. Their figures are impressive: 170 offices, staffed by more than 700 professionals, all of whom are ready to help users find their dream home.
Rakli
Rakli has built Finland' s leading network of professional property owners, construction clients, and real estate investors. With over 200 members, the association is the most prominent of its kind in Finland. Its size has allowed it to gain traction to move the public debate on industry topics.
At the same time, Rakli has also been able to influence its members' decision-making when it comes to acting responsibly. Plus, Rakli has been instrumental in raising up to entire industry by creating opportunities for members to develop their expertise and knowledge even further.
Varma
Think of Varma as a pioneering back-up plan. Whenever you start a new venture or evolve an existing one, having a solid insurance partner is essential. That is where Varma comes in, especially if your concerns include work ability management or any type of earnings-related pension insurance. Varma understands that your working life is bound to undergo regular changes just as your life does, and insurance plans need to combine flexibility and stability in equal measures.
Vastuu Group
Vastuu Group is here to help leading construction and real estate businesses take care of their legal obligations. Every construction project is subject to several laws and obligations that govern how contractors work with their employers, where liabilities lie, and who can access projects sites and more. Vastuu Group's solutions allow construction businesses to manage all those obligations easily. Handling data, retrieving reports, and complying with every requirement set out by Finnish law is made easy and quick through their services. PropTech software makes that possible.
Can you imagine your company on this list? We are always interested in increasing the strength of our organization. By becoming a forerunner, your business not only benefits from unique opportunities to meet the most promising real estate companies in Finland. In addition, you also have a chance to influence the future of the entire industry. Talk to us today about becoming a forerunner.